Whitening
The History of Tooth Whitening
Aesthetic dentistry was popular as far back as the late 1800's in this country. It was very popular to alter the shape of the front teeth as well as attempting to lighten them.
Carbamide peroxides were first used in the 1960's as an anti-inflammatory medicament - especially for periodontal and orthodontic therapy patients. During this period, some patients were found to have whitened areas appearing on their teeth. The research by one dentist was generally overlooked for almost 2 decades. Finally, the original study of carbamide peroxide was "rediscovered" and we now have the whitening systems of today.
FAQs
Q - How does whitening or bleaching occur?
A - It is hypothesized that the pigments in the tooth are oxidized.
Q - How long does it take to work?
A - Anywhere from a few days to a few weeks. When dealing with extreme stains, there are cases that have taken months to complete.
Q - What are the active ingredients?
A - Carbamide Peroxide and Hydrogen Peroxide.
Q - Can the trays be seen when I wear them?
A - No, they adapt to the teeth very closely and are completely clear.
Q - Are both the upper and lower done at the same time?
A - No, first the upper, then the lower. It is better to judge the effects of whitening by comparing to the untreated lower teeth. Also, it is much more comfortable to wear one tray at a time.
Q - Are there any problems associated with bleaching?
A - Some people get some sensitivity in their teeth. This can be handled with desensitizers or changing from the usual tray wearing regimen.
Q - How long does the whitening last?
A - Studies show a retention of approximately 84% at the end of 3 years.
Q - Can I continue to use the whitening gel in the future.
A - It is not usually required - BUT - it is possible to "touch-up" the color by occasionally using the tray and gel for one or two treatments.
Facts Concerning Tooth Whitening
Safety - There are more than 700 published articles that attest to the safety and nontoxicity of whitening systems, when administered by qualified dentists.
Predictability - More that 90% of patients will show significant decoloration.
Over-the-counter (OTC) whitening systems - Most kits have acetic or citric acid as their active ingredients. These can cause significant structural damage to the enamel when used for extended periods.
Active ingredients - We use a whitening solution of carbamide peroxide/hydrogen peroxide (between 15 and 25 percent strength).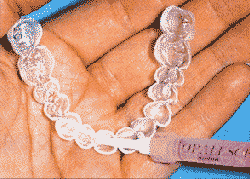 This is a bleaching tray being loaded
with the whitening gel.
We offer the latest in bleaching treatments. Bleaching could whiten your teeth by removing the discoloration of coffee, tobacco, and aging. Naturally yellow or darker teeth will benefit greatly from bleaching! Home bleaching requires an initial visit to determine if you are a good candidate for this procedure and for fitting of special custom made trays for your teeth. These thin, comfortable trays hold a special gel that usually whitens your teeth over a period of 7-10 days. You can wear them overnight or more often to speed up the process. Expect 2-4 shades lighter in color that will last up to five years.
Dentist In-Office Power Bleaching
The in office "power" bleaching is one of the quickest and most effective ways to whiten teeth but requires a session at the dentist's office. The dentist isolates and protects your lips, gums, and inside lining of your mouth. Next, a powerful bleaching agent is applied to the teeth. Finally, a powerful light source is applied which completes the procedure by activating the bleaching agent.One can choose to do all their whitening via this method using several appointments or use the power system to simply accelerate the process in the beginning.
Before and after pictures:
| | |
| --- | --- |
| Before | Before |
| After | After |